I'll be glad when this year is over!
BO LOZOFF DIED NOVEMBER 29th 2012
He was my dear friend and collaborator- we worked on lots of projects together-
I created this collage for Bo May 3 2006 where Bo Lozoff gave one of his illuminated talks
at the San Francisco Zen center. Bo and his wife Sita are the founders of the Human Kindness Foundation. They have been doing prison ministry for many years.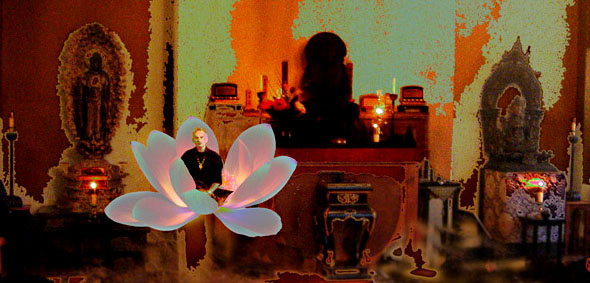 We had just developed his new cd- BO GOES COUNTRY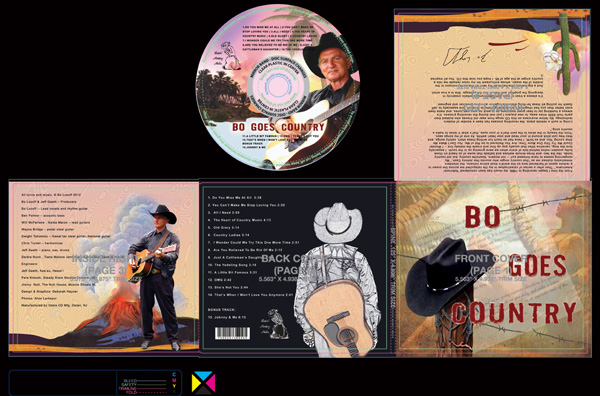 A LITTLE BOY IN THE LAND OF RHYME
Bo sent me a trophy that we won for our work
The Little Boy in the Land of Rhyme won Best Children's Book 2011
in the "Big Island Music Awards" ceremony
( http://www.bigislandmusicawards.com).
written by Bo Lozoff~illustrated by Deborah Hayner
---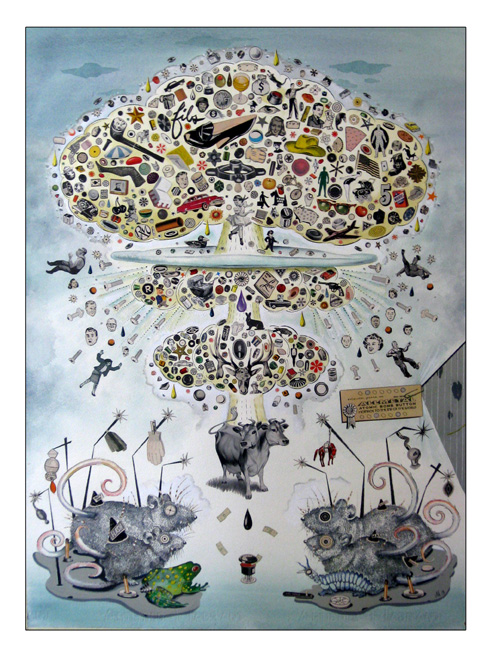 ---
SCRAP Art Exhibition at Arc Gallery
Exhibition dates: Dec 1st to Jan 9th
Opening Preview Reception:
Fri, Nov 30th 6:30 to 9pm

2nd reception with hands-on creative reuse activity: Sat, Dec 8th 1 to 3pm

Arc Gallery hours are: Weds & Thurs 12-5pm & Sats 12-3pm
---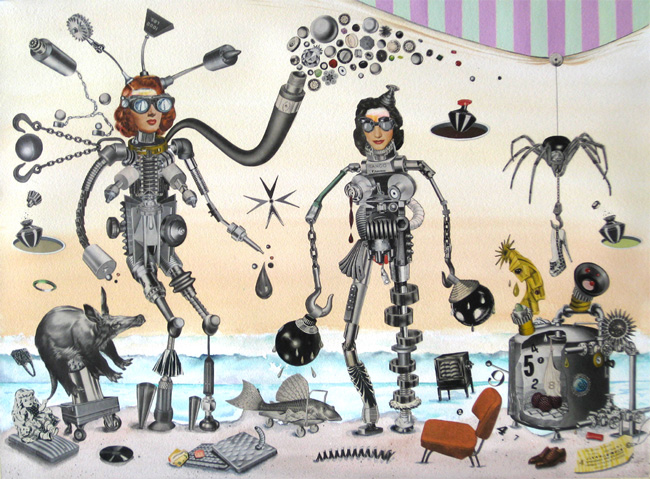 SPRINGBOX AND GALAGOO
---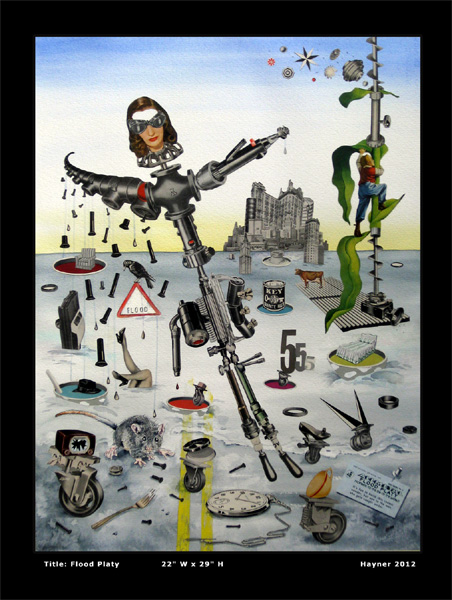 ---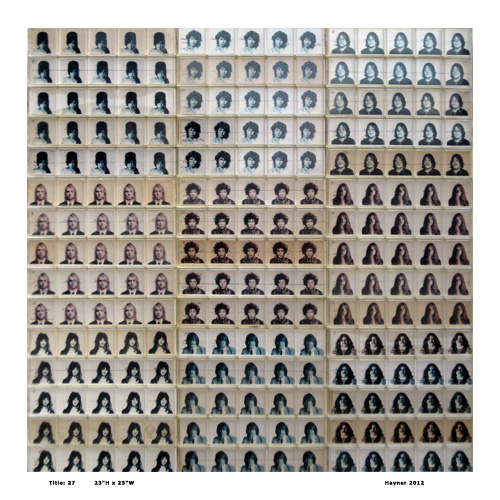 acetate in plastic containers
---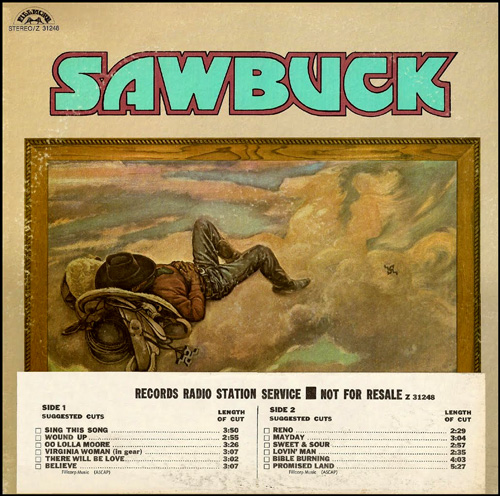 Ronnie Montrose
November 29, 1947 – March 3, 2012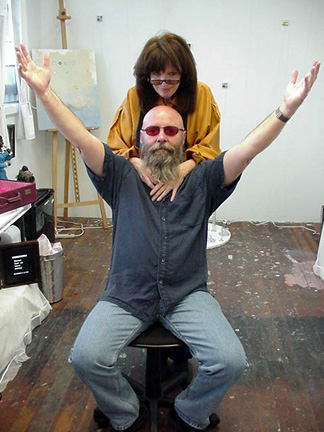 A Concert For Ronnie Montrose
A Celebration of His Life In Music
SOLD OUT
This portrait of Ronnie Montrose entitled "Voyager" will be avail at the short live auction
at the VIP after party.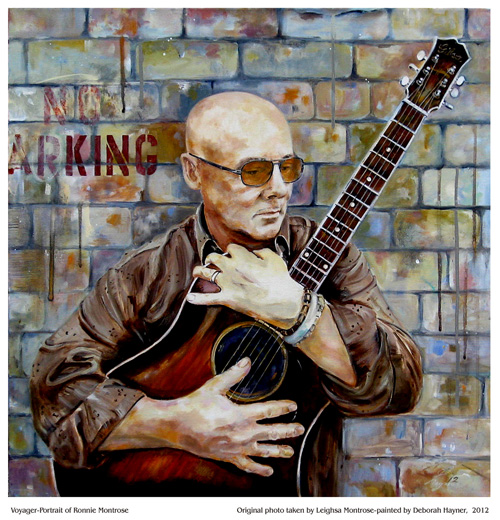 click here to view a larger version of VOYAGER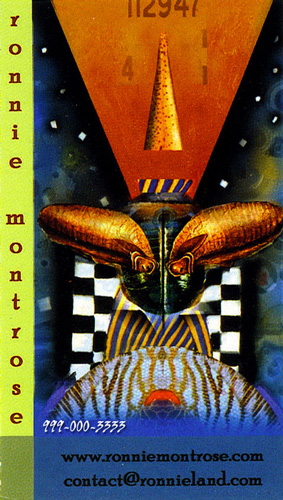 Out of the Darkness Suicide Prevention...
---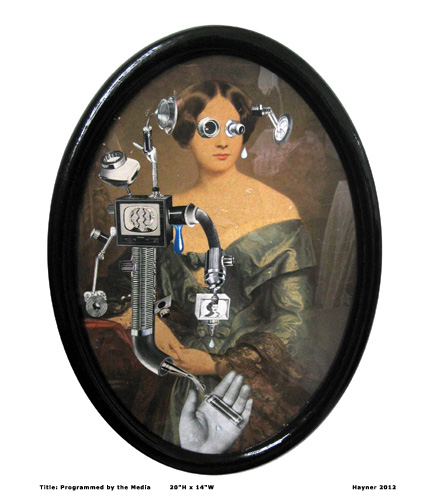 ---
The Little Boy in the Land of Rhyme won Best Children's Book 2011 in the "Big Island Music Awards" ceremony ( http://www.bigislandmusicawards.com).
written by Bo Lozoff~illustrated by Deborah Hayner
I received a lovely trophy in the mail!
---

PERCULID
---
EXCOR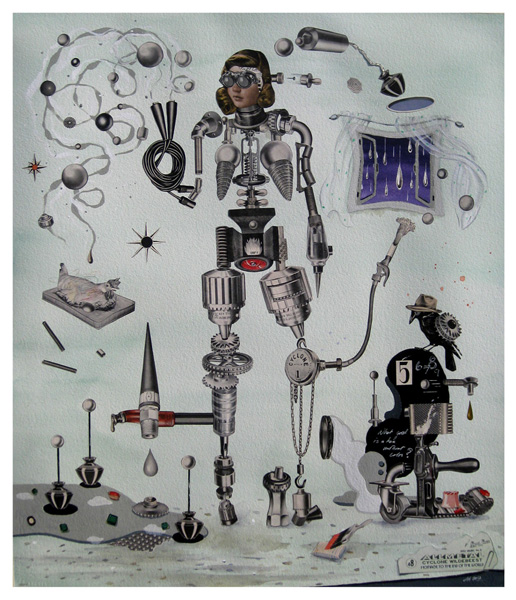 \
Homage to the End of the World
No.1 Mixed media 2012
Will be on exhibit at
also...
The Wildebeest in the Marinij.com

The Elements Exhibition
march 9 - april 27, 2012
Juror: Maria Medua, Director of the SF MOMA Artists Gallery
Theme: As an artist, how do you relate to the essential elements of our planet? This exhibit seeks works that comment on, express, or relate to the major elements: the substances which make up the earth, its oceans, and all forms of life on the planet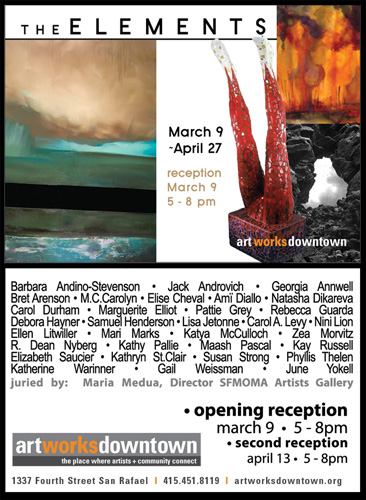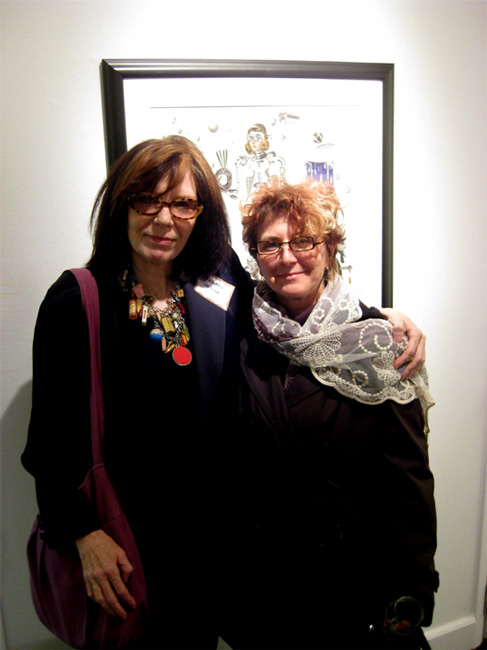 Deborah Colotti and myself at the E L E M E N T S exhibit.
---
3RD ANNUAL

ALTERED BOOK SHOW / SILENT AUCTION

150 outstanding book art works are on display in this eclectic,

highly creative show, full of whimsy and humor, balanced by some

serious art work that will knock your socks off!

This is a show you don't want to miss.

Opens Saturday, April 21, with a talk by Donna Seager at 4pm.

Reception follows 5-7pm.

Show runs through May 26 with a live auction closing party on May 26 from 5-7pm.


I will be participating again this year in this Altered Book Silent Auction-

My contribution Doxy-Doo...

A necklace made from paper beads exhibited in a birds nest.


LIVE AUCTION PARTY-Saturday, May 21, 5 to 7 pm
Altered Book Show/Benefit


at Novato Arts Center at Hamilton Field
500 Palm Drive, Nova to CA 94959 415.506.0137
www.marinmoca.org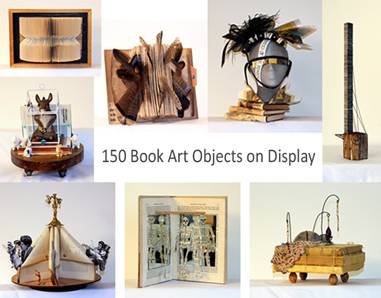 ---
EXCOR
GRAND OPENING AT SOMARTS
IN SAN FRANCISCO ON JANUARY 7, 2012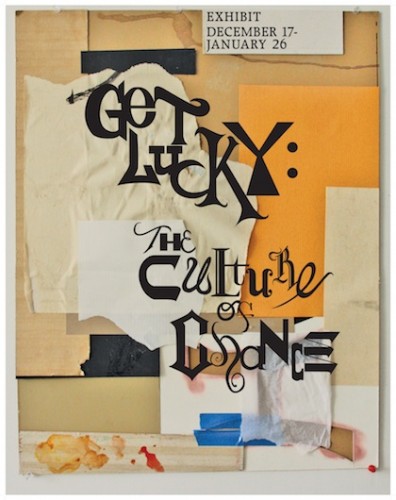 Get Lucky Reviewed by Kenneth Baker for the SF Chronicle
---
Participating in this exhibition and book is a real honor- some of the bay areas finest mixed-media artists participated, and the final art works are sensational. This should be a great showing and a fab book! Mark the date August 12th 7-9 in Berkeley.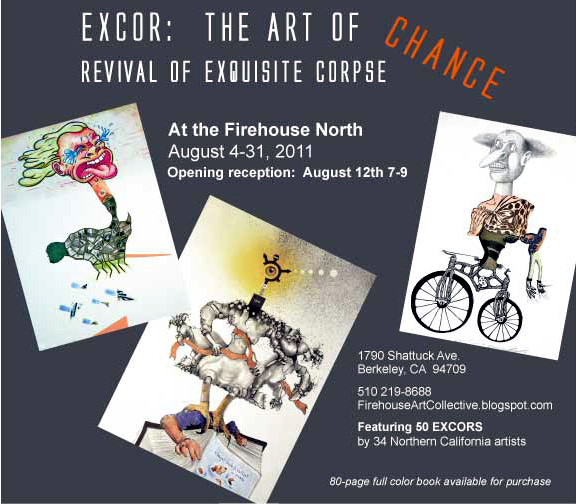 http://www.firehouseartcollective.blogspot.com/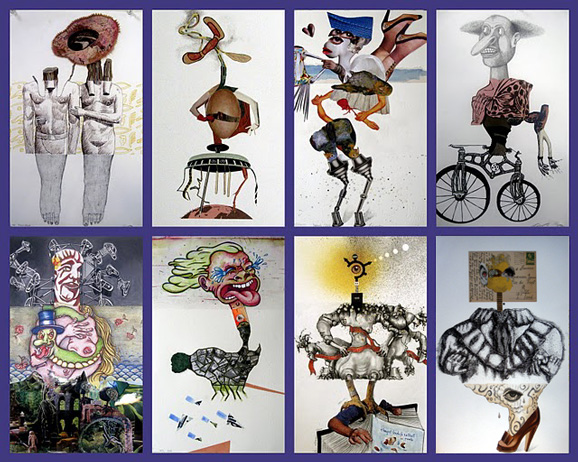 ---
The Book by Sherry Parker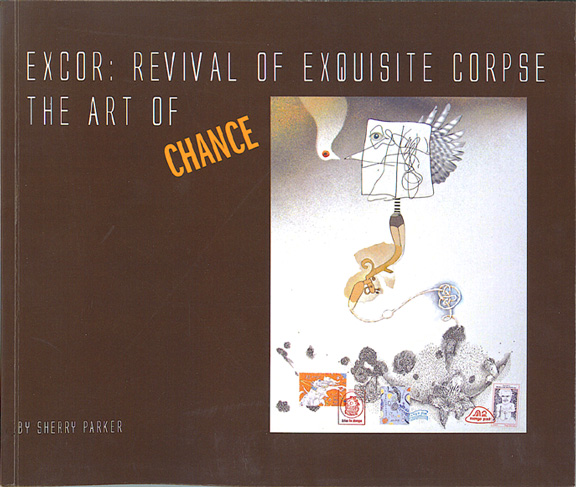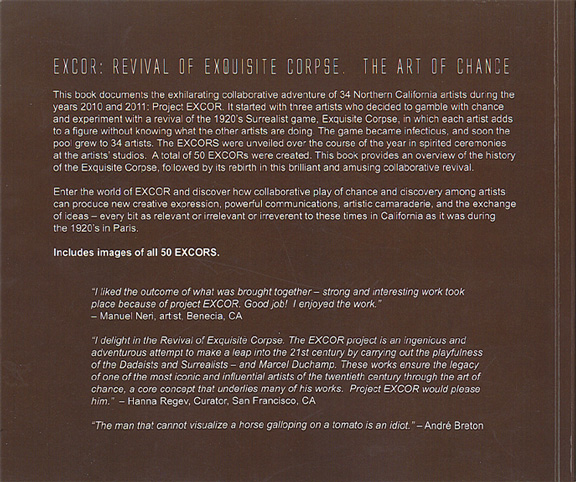 On June 1, 2011 The Associated Press released a wonderful wire
service news story about the international Landfillart Project.
The story was featured in hundreds of newspapers
and many broadcast television news stories.
Current exhibits I am participating in...
EXCOR
GRAND OPENING AT SOMARTS
IN SAN FRANCISCO ON JANUARY 7, 2012
---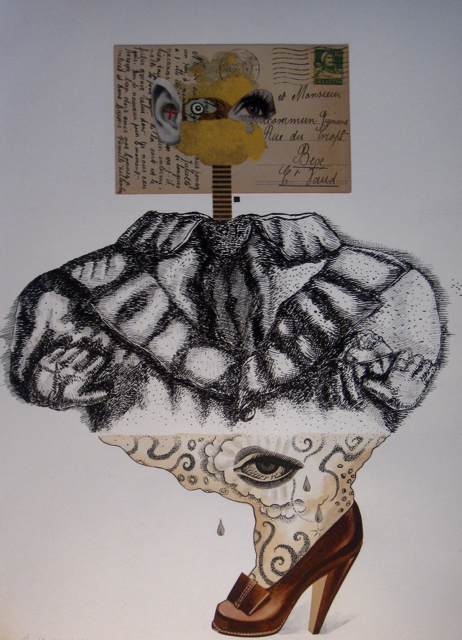 Excor#46
Artists from top to bottom:
Parker/Kuntz
Mateo
Hayner

EXCOR
Revival of Exquisite Corpse
In January 2010, a handful of North Bay artists began an underground adventure
which we call EXCOR, or the Revival of Exquisite Corpse. EXCOR is a
revitalization of the mid-20's Surrealist game, Exquisite Corpse – one of many
games of chance, discovery, and hilarity played as a diversion against the "raging
madness" of the decade. This is a blind collaborative visual exercise where one
artist begins by creating a head (of sorts), conceals it from the next who completes
the torso, and a third player is assigned the bottom of the creation – none of them
having seen the others' work. Notable artists of the time, such as Breton, Tanguy,
Duchamp, Man Ray, Picabia, Ernst, and Miro produced some remarkable
creations via this game.
In our game, the completed EXCORs were unveiled in spirited ceremonies at
participating artists' studios throughout the year. The unveilings, which were
attended by all of the artists, have proven to be an exhilarating collaborative
experience yielding provocative creatures, unexpected symbolism, and creative
camaraderie. We now number 33 Northern California artists and have completed
our goal of 40 EXCORs.

EXCOR #1
Artists from top to bottom:
Sherry Parker
Jenny Honnert Abell
Hamlet Mateo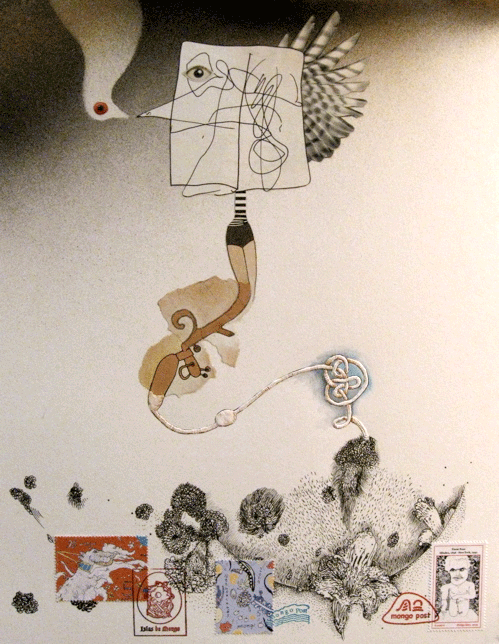 EXCOR #40
Artists from top to bottom:
Deborah Hayner
Jennifer Sturgill
Shane Weare



EXCOR Continued...

We had a very successful initial public showing in November in Santa Rosa,
which sparked tremendous interest in the EXCORs themselves, as well as in
the concept and its historical roots.
2011 will mark EXCOR's MIDLIFE. We plan to publish a book of our adventure
featuring the history of Exquisite Corpse, our EXCOR revival story, and images of
all 40 works. We believe the combination of the fascinating Surrealist history
followed by the "new surrealists" similarly rebelling against today's "raging
madness" will make an unusual and creatively-juicy story and event.
We are currently seeking an exhibit at a gallery or venue in Northern
California some time during the year of 2011. Then, at the end of the year,
we plan to throw a memorial event to bring an exquisite end to our exquisite
collaboration.

Excor artists: Jenny Honnert Abell, Todd Barricklow, Foster Beigler, Don Bishop,
Katie Black,Mary Black, Deborah Colotti, Pam Dixon, Max DuBois, Connie Goldman,
Deborah Hayner. Marna Hill, Corey Hitchcock, Kurt Kemp, Dina Kuntz, Helena Leifer,
Hamlet Mateo, Sherry Parker, Deborah Salomon, Michael Scheurer, Sylvia Seventy, Wil Smith, Karen Sommer, Stan Sommer, Jennifer Sturgill, Sandra Ortiz Taylor, Bunny Tobias, Patti Trimble, Sally Weare, Shane Weare, Bob Yagura.
EXCOR #5
Artists from top to bottom:
Sherry Parker
Karen Sommer
Sally Weare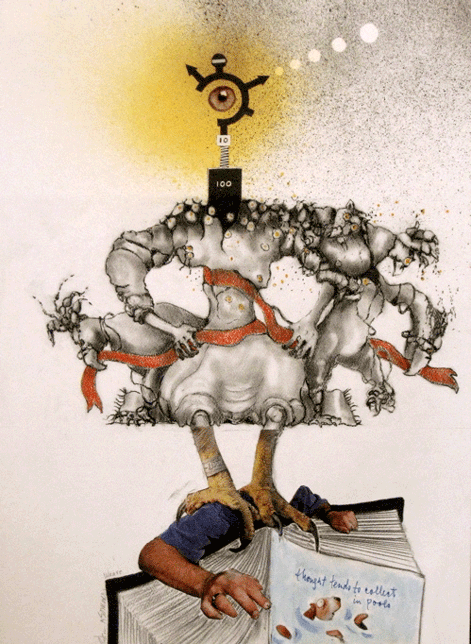 EXCOR #42
Artists from top to bottom:
Kurt Kemp
Michael Scheurer
Todd Barricklow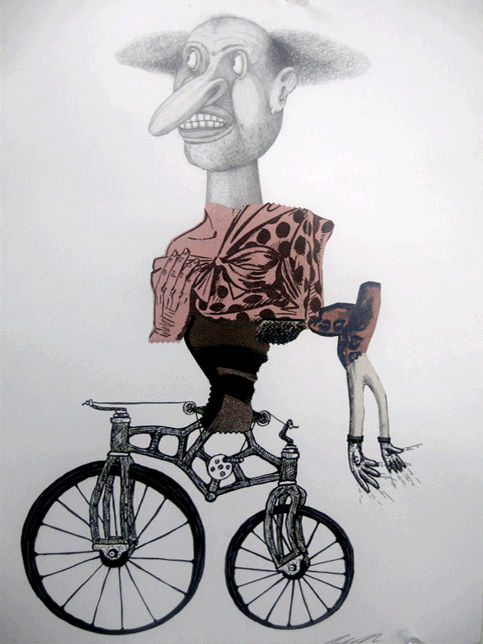 Sherry Parker Excor text content
***
---
Interesting links to check out!
Archived Blogs...
"The past is a wilderness of horrors"
Wolfman - The movie