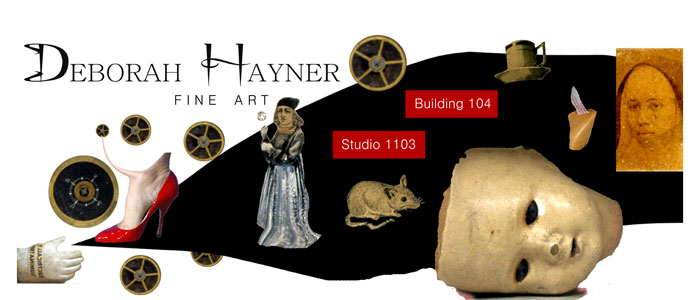 Work Diary
Home | Gallery | Resume | Links | Contact | Archived Blogs

---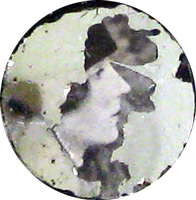 I just received this archived link from
Michael Hernandez De Luna- Axis of Evil lives on in archived infamy! YES!
Nov-Dec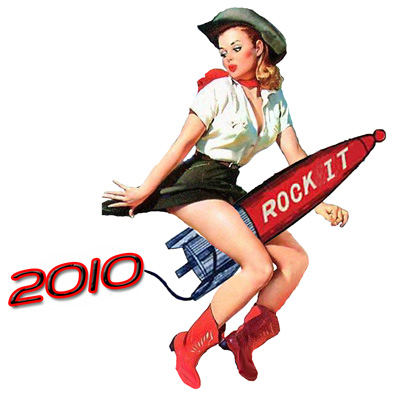 Holiday greeting from Haynerart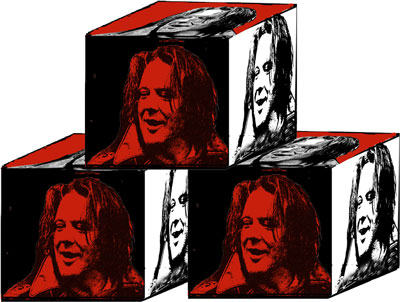 ---
October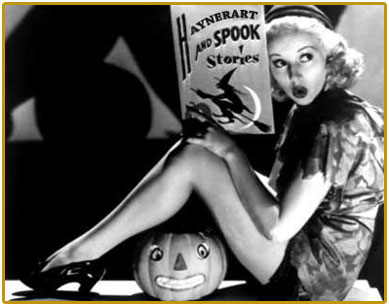 .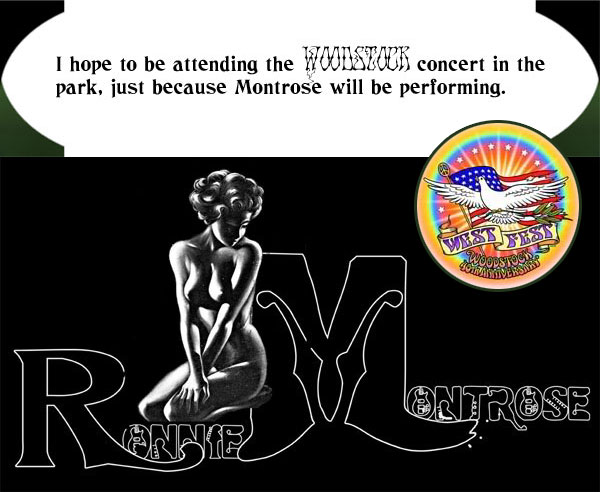 ---
June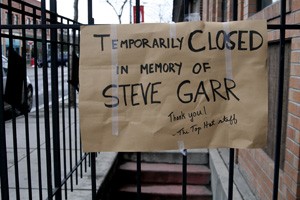 ---
May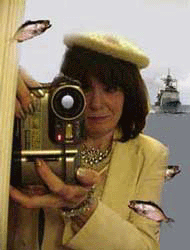 Open studio
Slide Show of Hayner Open Studio

Review of Hunters Point Spring Open Studio 09
---
April
CLICK TO VIEW MAY OPEN STUDIO POST CARD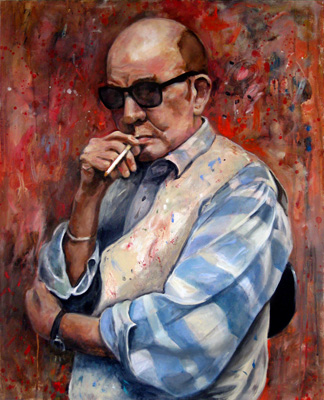 Shell Shocked – Dr. Hunter S. Thompson
Myths and legends die hard in America. We love them for the extra dimension they provide, the illusion of near-infinite possibility to erase the narrow confines of most men's reality. Weird heroes and mold-breaking champions exist as living proof to those who need it that the tyranny of "the rat race" is not yet final. Rolling Stone-DOUGLAS BRINKLEY

-- HUNTER S. THOMPSON, 1937-2005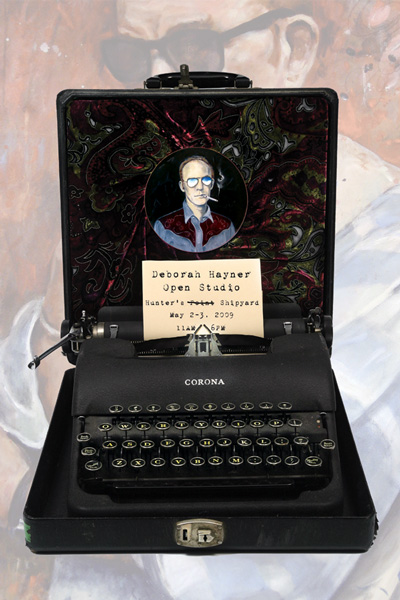 Wordslinger An Illuminated Corona

Mixed Media Assemblage
with insert and battery operated light
---
Obama collages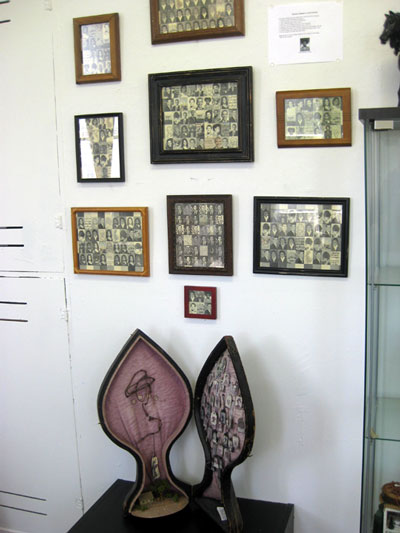 Collages 1-9...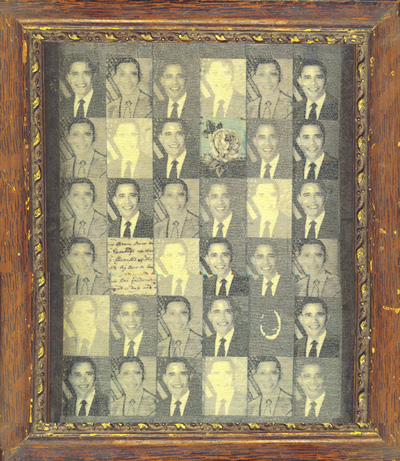 Barack Obama collage #1
9.5" h x 8" w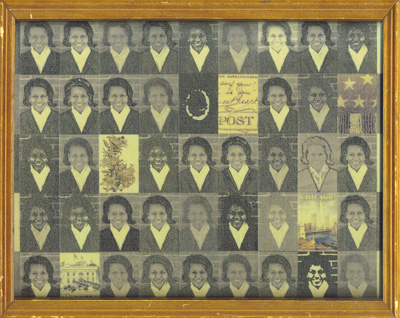 Michelle Obama collage #2
9.5" h x 11.5 " w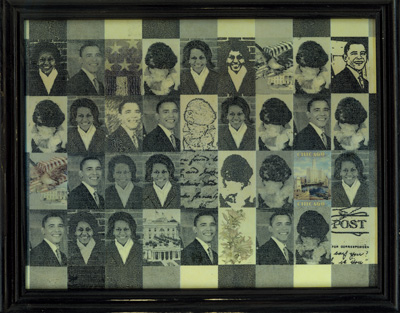 Bo Obama collage #3
9" h x 11 " w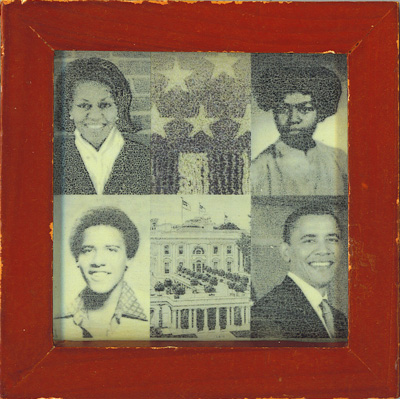 Obamas as teens collage #4
4" h x 4 " w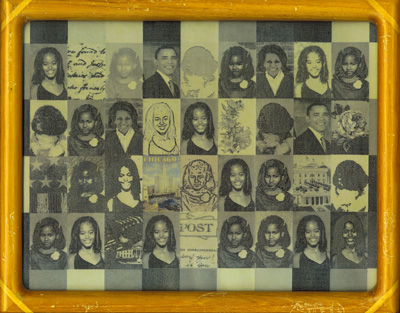 Obama Malia (born in 1999) and Sasha (born in 2001) collage # 5
8.25 " h x 6.5 " w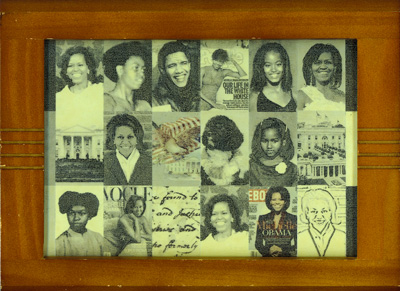 Michelle Obama collage #6
6.25" h x 8" w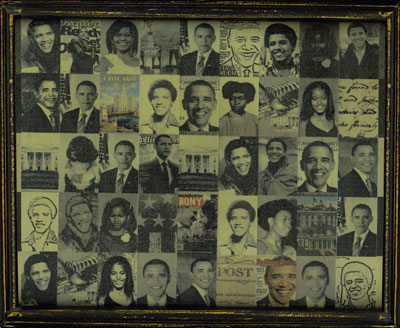 Barack Obama collage #7
10.5" h x 12.5 " w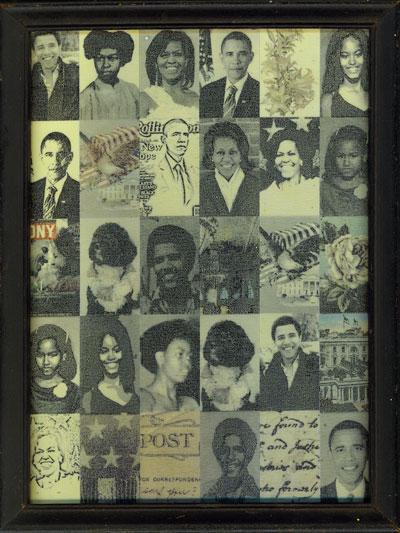 Obamas collage #8
8.25" h x6.5" w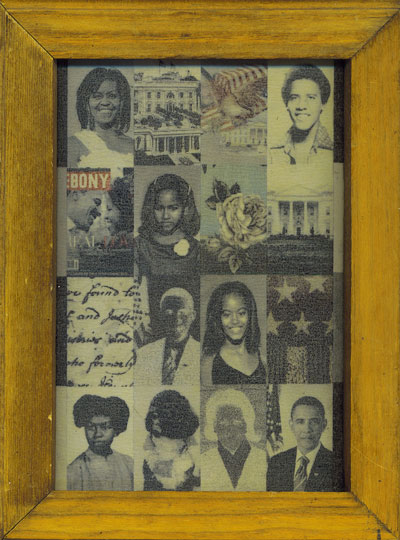 Obamas collage #9
8.25" h x6.25" w
---
Baby Steps
Mixed media on wood
---
Cat Fur Mobile

---
A BOOK ABOUT DEATH : 1000 ARTISTS CONTRIBUTE 500 POST CARDS EACH TO CREATE AN UNBOUND BOOK ABOUT DEATH. EXHIBITION AT THE EMILY HARVEY FOUNDATION GALLERY IN NEW YORK CITY. OPENING: THURSDAY 10 SEPTEMBER 2009.
EXHIBITION: 10 - 22 SEPTEMBER 2009.
http://abookaboutdeath.net/
http://abookaboutdeath.blogspot.com/
http://www.emilyharveyfoundation.org/
http://rayjohnsonestate.com/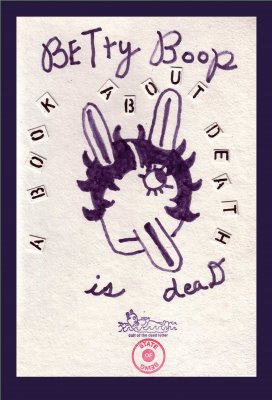 CONTRIBUTION REID WOOD from
A Book About Death
---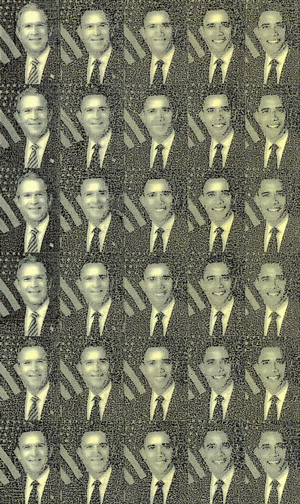 Bush-Obama Photo Manipulations
---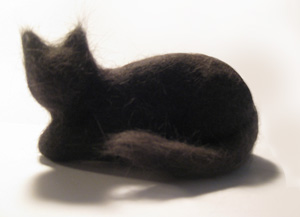 I finished my
hubcap for Ken Marquis's
artists reclamation project to make art from
Hubcaps
I decided to make mine an homage to one of my favorite artists,
Bruce Conner (November 18, 1933 - July 7, 2008)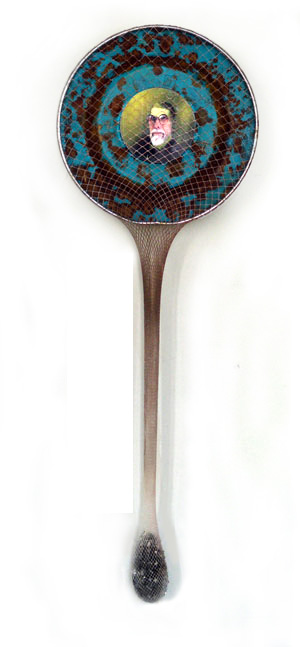 Homage to Bruce Conner
Deborah Hayner March 2009
for
Landfillart.org
---
LITTLE BOXES EXHIBITION RECEPTION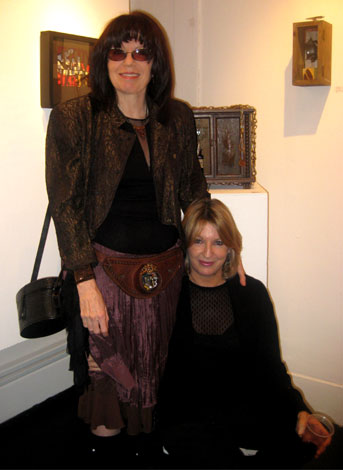 ---
---
This art work is going to be featured in the Little Boxes exhibit coming up in a few days.
I finally secured the chains and aged them as well.
In my open studio I exhibit this art work on the floor in the corner.
Photograph by ALMAC.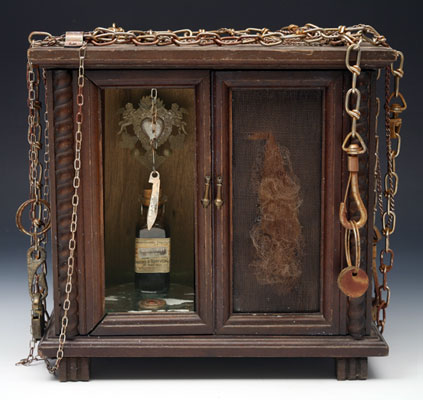 ---
FEBRUARY
* * *
I finally finished this painting,
The Face of Tradition
h:30" w:40"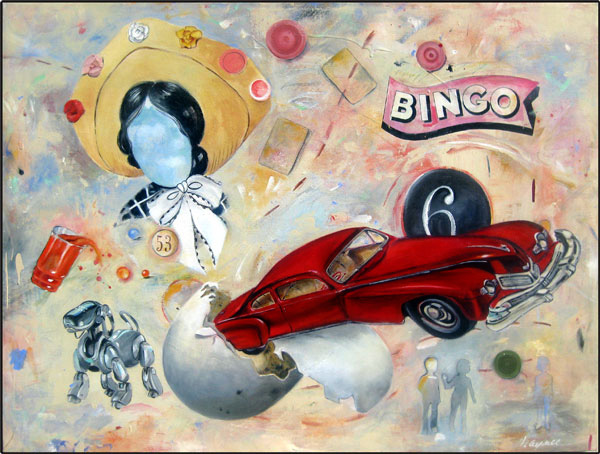 ---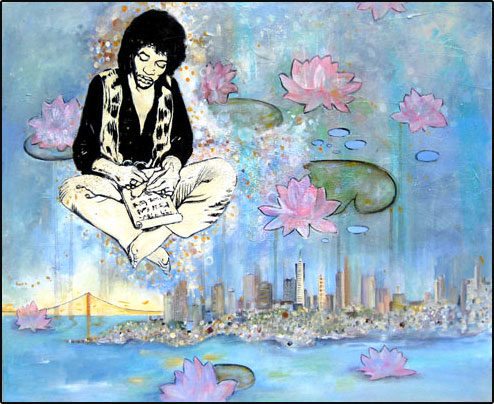 This painting had so many turns the surface became sculptural, so much paint, it became almost encaustic looking. I may do a bit more on it, but not for awhile, it now goes into breathing incubation.
---
My friend, István Horkay is having an exhibit in Berlin.
He is one of my favorite artists. Please check out his work
www.horkay.com
also
www.bolzanogold.com
Peter Greenaway /István Horkay
Nursery Tales
Cinema Total Second Edition
2009 Február 6. -16.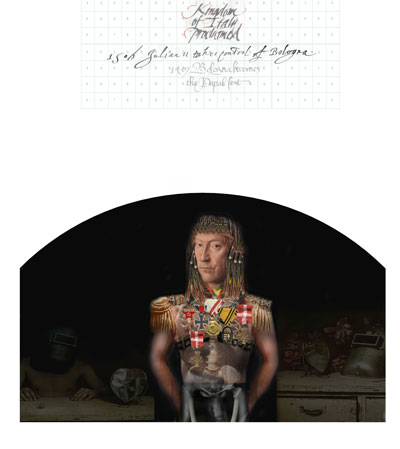 ---
The Art Work of Elizabeth Jameson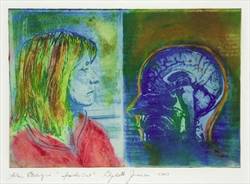 Click here to view Beautiful Brain

a nine-minute documentary about Elizabeth J. Jameson, courtesy of Cheryl Bowlan.


---
BUGGER



Shepard Fairey was arrested Friday night on his way to the Institute of Contemporary Art for a kickoff event for his first solo exhibition, called "Supply and Demand."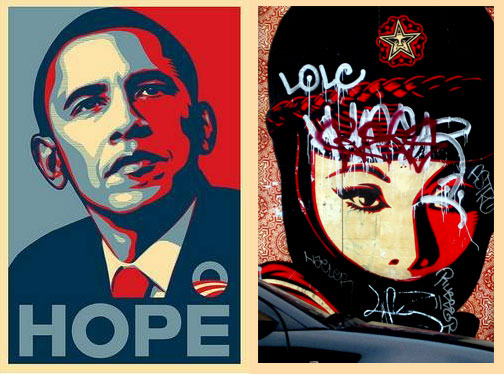 "ALL IS FAIR IN LOVE AND MIXED MEDIA"
---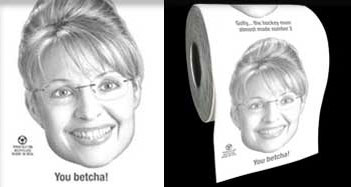 ---
Speaking of which
now available
AMERICAN BEAUTY
by Michael Hernandez de Luna
$30.00
136 pages
Publisher: Bad Press Books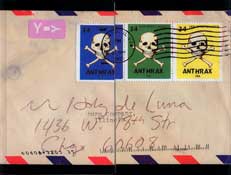 "CONTROVERSY FOLLOWS HIM WHEREVER HE GOES"
---
I've been invited to participate in a four person exhibition in March
Zannah Noe
Dolores Grey
Lex McQuilkin
Deborah Hayner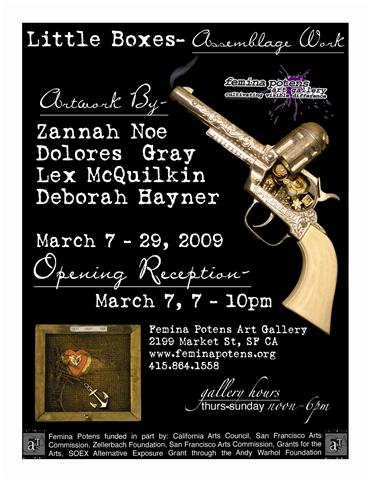 "LITTLE BOXES ART SHOW"
PRESS RELEASE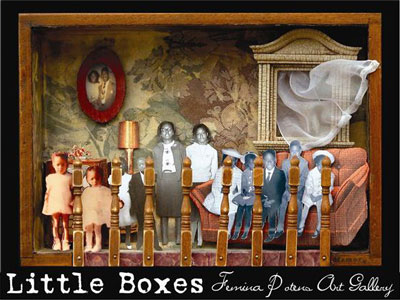 at the Femina Potens Gallery in San Francisco
www.feminapotens.org
Artist reception
March 7 2009
---
I've signed on to Ken Marquis's
artists reclamation project to make art from
Hubcaps


Jan Henderson's Contribution
this type of project is right up my alley, I've requested his raw version of the canvas to
transform, the rusty impaired.
How shall the grimy thaumaturgy unfold?
aaaaahhhhhhhhh
the mystery and exquisiteness that is art

---


I've just started a new gallery on my main gallery for art to wear
I"ll be posting new images as I do the photography.
also
I'll be doing spring open studio in May
check out Hunters Point Spring Open Studio website .
---
JANUARY
Cat Fur
2008's collection.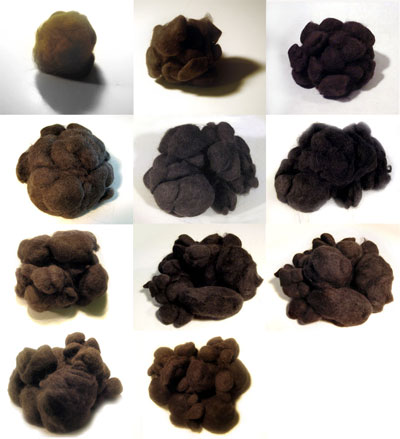 In the BDT painting I injected a lot more color then I originally intended,<and mixed dirt stuff into the paint> which may be the case as these paintings progress. He should have won an Oscar for his performance in Things We Lost in the Fire. I am looking forward to CHE and Wolfman.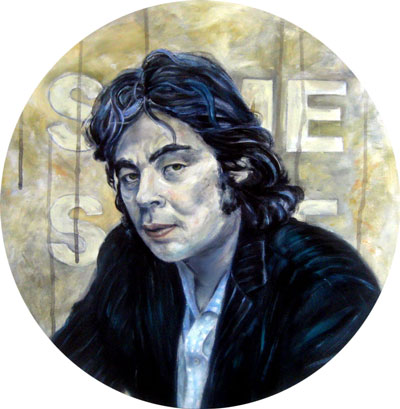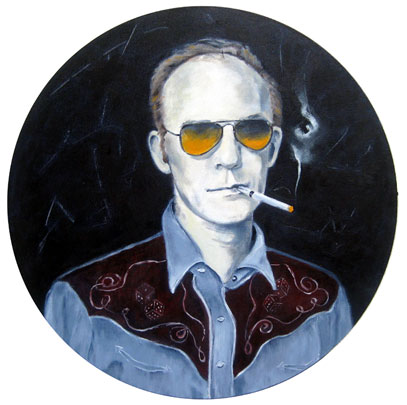 I love an educated outlaw, esp. writers and artists who are honest and open about their political incorrectness. (Charles Bukowski comes to mind) There are many aspects to Hunter Thompson that fascinate me. Looks like sunshine lysergic acid diethylamide in the orange paint? N0?
portraits coming soon
Patti Boyd
Barbara Holden
Twiggy
Gordon Parks

* * * * * * * * * * * * * * * *
---
Home | Gallery | Resume | Links | Contact | Archived Blogs
If you have any comments or message please fill out the form below, Thanks!